Seven Empires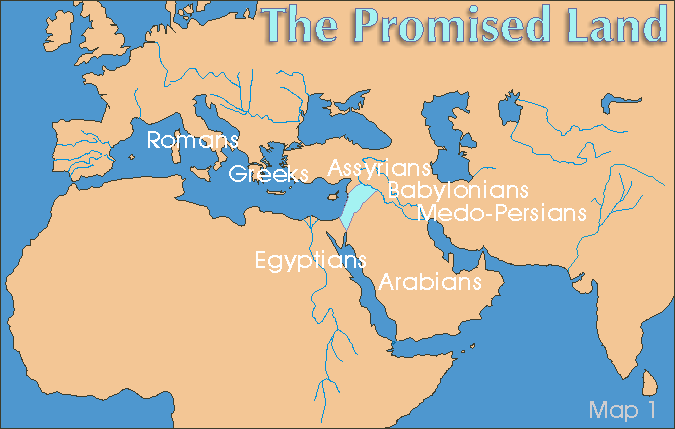 The Bible tells of a promise God made to Abram, later called Abraham, that He would give his descendants a particular land.
"On the same day the LORD made a covenant with Abram saying; To your descendants I have given this land, from the river of Egypt to the great river, the River Euphrates," Genesis 15:18-19.
This promise was inherited by Abraham's son Isaac, not Ishmael.
"Then God said: No Sarah your wife shall bear you a son, and you shall call his name Isaac; I will establish My covenant with him for an everlasting covenant, and with his descendants after him...Also I give to you and your descendants after you the land in which you are a stranger, all the land of Canaan, as an everlasting possession; and I will be their God." Genesis 17:19,8.
Isaac's son Jacob, and not Edom, then received the inheritance.
"And behold, the LORD stood above the ladder and said: I am the LORD God of Abraham your father and the God of Isaac; the land on which you lie I will give to you and your descendants." Genesis 28:13.
God then promised the land to the nation which had arisen from the descendants of Jacob, now called Israel.
"And God spoke to Moses and said to him: I am the LORD. I appeared to Abraham, to Isaac, and to Jacob, as God Almighty, but by my name HASHEM I was not known to them. I have also established My covenant with them, to give them the land of Canaan, the land of their pilgrimage, in which they were strangers. And I have also heard the groaning of the children of Israel whom the Egyptians keep in bondage, and I have remembered My covenant. Therefore say to the children of Israel: I am the LORD; I will bring you out from under the burdens of the Egyptians, I will rescue you from their bondage, and I will redeem you with an outstretched arm and with great judgments. I will take you as My people, and I will be your God. Then you shall know that I am the LORD your God who brings you out from under the burdens of the Egyptians. And I will bring you into the land which I swore to give to Abraham, Isaac, and Jacob; and I will give it to you as a heritage: I am the LORD." Exodus 6:2-8.
Israel has been given a special promise for a special land, a land requiring faith in God. Right of possession has never been in doubt, but fitness to maintain residence is determined by faithfulness to God. Israel stumbled in the past, suffering loss of sovereignty and exile on various occasions, though by God's great mercy Israel has returned. Seven major powers have been instruments in God's plan for Israel and the Promised Land.
The Seven Empires
The Past

The Future